Top 5 Shampoo Manufacturers in India
The Best Private Label Shampoo Manufacturers in the USA
October 7, 2020
Shampoo has come a long way since its invention in 1927. As of 2019, the market value for global hair care had hit an annual high of $90.2b and it estimated that by 2025, that figure will be about $105b. This is proof that more people and companies are getting into the ever expanding hair care industry as the demand for products like shampoo increases.
The ability of the manufacturer to reproduce an established shampoo hair formula to create a slightly tweaked product based on the specifications of the customer. All you will need to provide are your own components and leave the rest to the manufacturer.
The ability of the manufacturer to provide private label shampoo that is ready to be used at a moment's notice. This includes the packaging and the branding.
The ability of the manufacturer to conduct quality control, testing the product to ensure that it is safe for use and has the necessary qualities of a good shampoo i.e. fragrance, color and texture.
India, like any other nation on earth, has a huge cosmetic and beauty industry that heavily consumes products like shampoos. To meet this demand, the following are the top 5 shampoo manufacturers in India.
Dev Care Cosmetics ( Leading Hair Shampoo Manufacturers in India)
Dev Care Cosmetics was established in 2009 and works to provide quality cosmetic products including shampoos. Their line of shampoos ranges from ProCare shampoo, conditioner shampoo, anti-dandruff shampoo to herbal shampoo.
All their products are created following the international quality standards. It is one of the few manufacturing companies that offer exporting services to all their products. All the shampoos made by Dev care are formulated using natural and non-toxic ingredients.
This ensures that they are safe for use and provide quality results each time. Their minimum order quantity on shampoos is set at 1000. They are located in Navagam, Kamrej, and Gujarat. 
Elegant Cosmed Private Limited
Elegant Cosmed Pvt Ltd was established in 2006 and has grown to provide different cosmetic products in the market. They ensure the highest standards throughout the manufacturing process of their shampoos to ensure they are safe and effective.
These shampoos come in quality packages to avoid contamination and have very affordable price ranges. Their shampoos are made to address different hair problems including; hair fall, hair damage, dandruff, and moisture loss.
The best part about this company is that they offer third party manufacturing. You can submit your formula and designs to them and get your products with quality being the operative aim.
New Moon Cosmetics Private Limited
New moon cosmetics was established in 2013 and has become well known in the domestic market. They specialize in the manufacturing, distribution, and supply of cosmetic products including shampoos.
Their shampoos feature herbal plants as the main ingredient during the manufacturing process. These shampoos are made to the required standards and promise a longer shelf life due to the presence of natural ingredients.
They feature shampoos that restore color and also have color-safe shampoos for those with dyed hair. These shampoos are safe for all ages since they are non-toxic. They are located in Rajasthan, India, and work with qualified staff to deliver the best results.
Trichup Shampoo Manufacturers in Gujarat
Trichup manufacturers are a flagship brand of Vasu healthcare and have come to be known as the best when it comes to comprehensive hair care. Their shampoos are made from powerful herbs that provide your hair with natural solutions for any hair damage.
These shampoos are made to the best quality and are chemical-free to keep your hair healthy. Trichup shampoos are made to address specific problems including, hair fall, hair length, scalp health, dandruff, and hair strength.
These products are gentle and have been formulated for daily cleansing use. They have an FAQ page on their website that answers most hair related queries to help you get the best products. 
Denajee Health Care Products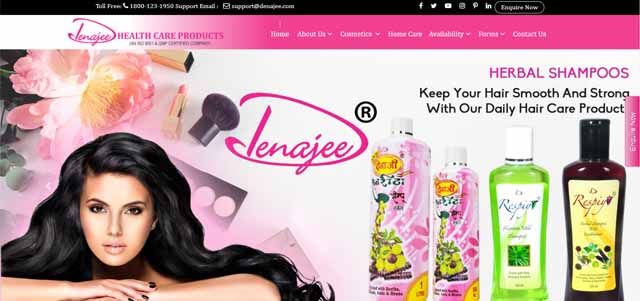 Denajee health care specializes in different products ranging from shampoos to liquid handwashes. Their shampoos are mainly made from herbs that are grown in house.
They have a special procedure of extracting useful herbs from their plants and formulating quality products. Their shampoos are made to treat hair fall, dandruff, and white hair that occur in young people.
The shampoos are 100% ayurvedic and result in healthy, shiny, and bouncy hair. Their corporate offices are found in Guru Kripa Kunj where you can go and inquire more about their products. 
Different shampoo manufacturers have different shampoos that are developed for different purposes. This is why you need to do your research and decide where you want to concentrate your efforts.
What's your selling point? Is it growing long hair or treating existing hair problems? Knowing this will help you decide the best shampoo manufacturers to work with. Remember to pay attention to the requirements of the manufacturer before making your orders.
Shampoo manufacturers can reproduce an established shampoo or hair care formula or create products from a formula supplied by the customer. You provide your own components, labels, etc. and the manufacturer will make the formula and fill the components. What you get is a truly custom product from formula to packaging.
Formula Corp has the capability to manufacture Private Label Shampoo manufacturing. We have dozens of personal care formulas that are ready to go–literally apply your own brand on the label and ship it to the retailer. Or, if you want, we can even package, label, assist with graphic design, and drop ship it for you.
After a shampoo formula is developed, it is tested to ensure that its qualities will minimally change over time. This type of testing, called stability testing, is primarily used to detect physical changes in such things as color, odor, and thickness. It can Shampooalso provide information about other changes, like microbial contamination and performance differences. This testing is done to ensure that the bottle of shampoo that is on the store shelves will perform just like the bottle created in the laboratory. The manufacturing process can be broken down into two steps. First a large batch of shampoo is made, and then the batch is packaged in individual bottles.